Fiction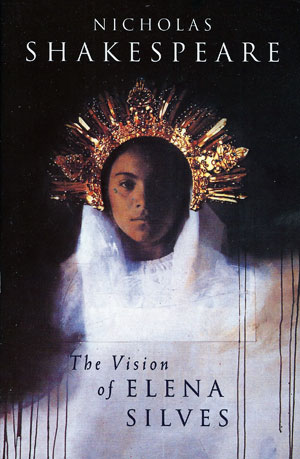 The Vision of Elena Silves, 1989 (Somerset Maugham Award, Betty Trask Award)
In the Amazon city of Belén, in the heart of the Peruvian jungle, three old men sit on a bench. They sit in the square every day under the hot sun, remembering the women they loved and the world when it was a better place. One day a woman hurries past their bench whom all have reason to remember – Elena Silves, the girl with eyes as blue as the sky who once saw a vision and has been incarcerated by the Church authorities in a convent high in the Andes ever since. But the old men remember something else. They remember that Elena had been in love at the time with Gabriel, a student revolutionary who became the most wanted man in Belén.
Reviews
I cannot think of any other foreign writer who has entered into the labyrinth of the politics of my country and acquitted himself so well
---
Written with precision, clarity and rare beauty… Alongside Salman Rushdie and the late Bruce Chatwin, Shakespeare now joins the ranks of the New Exotics school
---
A remarkable debut… A story of love and insurrection brilliantly told…One of the best books about the continent written by an outsider
---
An Englishman's novel of magic realism, flavoured with the more traditional English spices such as thriller and tourchsong, and a touch of Anglo-Saxon irony… A fine literary novel, combining several traditions and genres of fiction
---
A novel of action in the best tradition of Conrad and Greene… Love, violence, revolution and death – a denouement that is unexpected, shocking and brilliantly conceived… I closed the novel with both satisfaction and regret
---
The Vision of Elena Silves is a terrific novel
The High Flyer, 1993 (Longlisted for Booker Prize; selected for Granta's Best of Young British Novelists, 1993)
Thomas Wavery is the new Consul General at Abyla on the tip of North Africa. A career diplomat, Wavery was once a high flyer, but an affair with a younger woman has dashed his dreams of ambassadorship. He arrives in Abyla with his wife suing for divorce, his passport stolen by a Gibraltarian ape and precious little enthusiasm for the task ahead. His one hope of redemption is a visit from his new love.
Reviews
He tells a story like an angel… Wonderful
---
A deeply satisfying book. I feel quite exceptionally inclined to read it all over again
---
Shakespeare has completed a richly detailed, remarkably complete imaginary world
---
His lyricism is all his own and he raises his lovers to a plateau of passion where Greene never ventured
---
Wavery's story has a lyric simplicity and an emotional subtlety that are moving, involving and beautifully observed
---
The Vision of Elena Silves was almost too precociously good. The High Flyer rolls back the doors of the Shakespearian bunker to reveal the arsenal within. It's a very good novel
---
The Dancer Upstairs, 1995 (Chosen by the American Libraries Association as the Best Novel of 1997)
This novel explores one of the most astonishing stories in the whole history of twentieth century terrorism. Colonel Rejas was the policeman charged with the task of capturing the Peruvian guerrilla leader Ezequiel, but having been dismissed he finds the burden of silence and secrecy too heavy. On meeting Dyer, a foreign correspondent, he is moved to relate the tortuous progress of the manhunt for the first time. The Dancer Upstairs is a story reminiscent of Graham Greene and John le Carré – tense, intricate and heartbreaking.
Reviews
A completely overwhelming novel, and I suspect that it will become a classic… one of those perfect novels
---
Nicholas Shakespeare's stunning new book proclaims him the undisputed master of the Latin American scene
---
Shakespeare is interested in grand themes: love, vocation, politics and the corrupting power of moral and ideological absolutes… The Dancer Upstairs will be enjoyed by any kind of reader… It is enviably good, a genuinely fine novel from a writer who possesses real heart and flair
---
Almost steams with the author's understanding of South America and yet is somehow poetic and tender
---
Will count among the best work being produced by the present generation of British writers
---
As cracking a story as any yarn, as informed as any journalism, and delivered with firmness and urgency
---
Astoundingly good…This dramatic, moving story demands you put your life on hold until it is finished
---
In addition to being a satisfyingly rich tale or romance this is a highly intelligent examination of Peruvian – and South American – reality… Funny and devastating… I was riveted by this superb novel
---
A crackling good yarn – Graham Greene meets Gabriel García Marquez
---
Riveting… An intriguing, well-crafted and powerful novel
---
A beautifully crafted tale of love, obsession, and terror
---
A gripping literary thriller… An unusually powerful examination of what animates thesouls of those who choose—or are forced—to play upon the stage of history
---
Shakespeare explores an explosive situation in Latin America, deftly mingling love and suspense in a powerful, persuasive narrative… Precisely, beautifully detailed, a tale both faithful to its time and utterly timeles
---
Nicholas Shakespeare, using only black marks on white paper, has set in 1990s South America a story quite as evilly enchanting as the one about The Third Man Graham Greene set in Vienna… Shakespeare's unadorned prose is as clean and precise as the coroner's scalpel. The Dancer Upstairs is an extraordinary story; no grown-up reader should neglect it
---
Snowleg, 2004 (Longlisted for Booker Prize)
A young Englishman visits Cold War Leipzig with a group of students and falls for an East German girl who is only just beginning to wake up to the way her society is governed. Her situation touches him, but he is too frightened to help. He spends decades convincing himself that he is not in love until one day, with Germany now reunited, he decides to go back and look for her. But who was she, how will his actions have affected her, and how will her find her? All he knows of her identity is the nickname he gave her – Snowleg. Snowleg is a powerful love story that explores the close, fraught relationship between England and Germany, between a man who grows up believing himself to be a chivalrous English public schoolboy and a woman who tries to live loyally under a repressive regime.
Reviews
Superb… Beautifully written, rich in character, it displays all the courage for which its hero so desperately wants to be recognized
---
Superbly evoked… a morality tale which keeps the reader spellbound till the last sentence
---
This novel is one of the finest attempts in English to convey something of two very strange places which no longer appear on the map of Europe… Shakespeare has told a very skillful story
---
Haunting… Compelling… Shakespeare deftly captures both the paranoia and the material and cultural poverty of East Germany
---
A brooding, introspective, deftly crafted novel… A moving story that speaks volumes about an era and a political system that is rapidly slipping into the recesses of our memory
---
Like Michael Ondaatje in The English Patient and Shirley Hazzard in The Great Fire, Shakespeare weds a formal, detached prose style to a deeply romantic theme; the result is a powerful, ethereal love story set against the twisted politics of East Germany under communism…. A beautifully written, utterly compelling story of love and politics
---
A volatile cocktail of passion and politics
---
A richly imagined tale of thwarted romance, between characters whose lives have been warped by East German treachery under Communism
---
Elegant, romantic, forceful
---
Already my bet for this year's Booker Prize. A superbly achieved and moving novel
---
Secrets of the Sea, 2008 (Shortlisted for Commonwealth Writer's Prize; longlisted for Miles Franklin Award)
Following the death of his parents in a car crash, eleven-year-old Alex Dove is torn from his life on a remote farm in Tasmania and sent to school in England. When he returns to Australia twelve years later, the timeless beauty of the land and his encounter with a young woman whose own life has been marked by tragedy, persuade him to stay. They marry, and he finds himself drawn into the eccentric, often hilarious dynamics of island life. Longing for children, the couple open their home to a disquieting guest, a teenage castaway, whose presence in their home begins to unravel their tenuously forged happiness.
Reviews
If he has not previously earned the right to be considered a world writer, this novel should confirm it… A resonant fiction, affirmative and very human
---
A remarkable novel. It is brilliantly successful in portraying the forlorn, claustrophobic, gossipy, defiant little society in which it is set…This latest work shows Shakespeare to be one of our dozen or so best
---
I read it with complete absorption, wholly immersed in its world. It has a palpability and veracity which is quite mesmerising. A tremendous piece of work.
---
Masterful…Secrets of the Sea is the delicate account of [two lovers'] coming together and drifting apart… Shakespeare has produced a work of rare beauty
---
Gripping…subtle but arresting
---
Engagement with the sea… its significance in the unplumbed depths of human psyche, is the real, undoubted strength of this novel
---
Carefully measured storytelling in this enveloping tale of life's small treasures lost and found
---
An impressive, poignant piece of work
---
An astute portrayal of thoughtful characters…Elegant and enjoyable
---
It reads absolutely true… A very good novel indeed
---
Inheritance, 2010 (Longlisted Dublin IMPAC Award)
What would you do if you suddenly and unexpectedly inherited £17 million? This is what happens to Andy Larkham, recently jilted lover, and resentfully underpaid publishing minion. Arriving late to the funeral of his favourite schoolteacher, he ends up in the wrong chapel with one other mourner, too embarrassed to leave. Pressured to sign the register, little does he realise what effect that signature will have upon his life. The extraordinary story that follows tells of one man's failed love, the temptations of unanticipated wealth, the secrets of damaged families and the price of being true to oneself. It is a romance for our times.
Reviews
Unambiguous fictional mastery… the voice of a great novelist… a book that haunts the mind like an enchantment
---
Thoughtful and beautifully observed… Never predictable, this novel combines a remarkable narrative force with the lightest of touches. A book to savour and pass on
---
Shakespeare has taken great risks with this novel, intertwining different stories, writing in different registers, mixing fantasy life with cruel reality. He brings it off; different passages in different veins contrive to ring true. It's an utterly absorbing and enjoyable novel, one so engaging that you find yourself willing it to end happily. It is a Romance which moves with assurance from wild improbability to a reconciliation with things as they may truly be
---
Completely riveting and very funny indeed. Shakespeare at his empathetic best, as he mines the fragile seam of our desire to be loved for who we are
---
Compelling – and consistently surprising
---
A very funny book indeed, beautifully plotted, and it tells a nice morality tale about the nature of avarice, and the absurdity of our times
---
Brilliant… heart-stopping… it feels as though you've dozed off during an episode of The Office and woken up in The Brothers Karamazov
---
A novel of scintillating brilliance… The flipside of Inheritance takes us into near-Dostoyevskian territory but somehow it's a seamless segue and in its impassioned sense of injustice this tale grips with such relentless force that some readers may be too absorbed to fully note Shakespeare's double-virtuosity
---